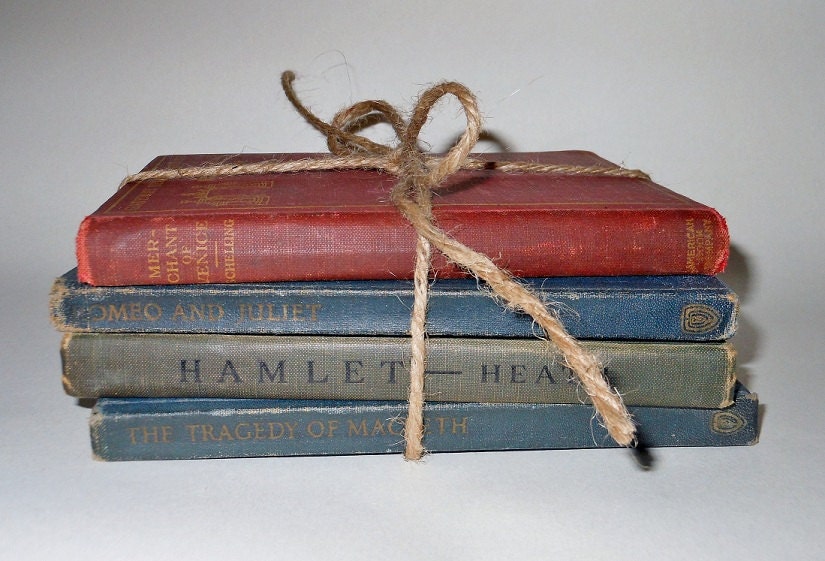 via google
It suddenly struck me, not that long ago, that I've never really mentioned much about a particular author who goes by the name William Shakespeare. I was first introduced to him through our homeschool's production of The Taming of the Shrew

.

I was eight or so, and found it hilarious, even with the hard-to-understand Elizabethan vernacular. (It was even more hysterical due to the fact that they set the play in the 1970s…just imagine the costumes!)
In addition to The Taming of the Shrew, I love Much Ado About Nothing and I also have fond memories of A Midsummer Night's Dream. But the Shakespeare play that I have the most interesting history with is probably the oft-quoted Hamlet.
It all started in the 10th grade when for extra credit I had to read Hamlet. I had read plenty of other Shakespeare plays – The Merchant of Venice, Julius Caesar, and Romeo and Juliet, for example, but we had gone through them as a class, and this was just something kind of "extra" that we didn't really discuss. Well, I was completely lost. I got the basics of the storyline, but mostly I just waded through it and was supremely thankful when I was done and that I'd never have to look at it again.
Well, God obviously had other plans, because next year I took a Shakespeare class and had to read it, and then Senior year in British Literature I had to read it again. And somehow, Hamlet became the only tragedy that I actually liked. Not to mention, I also own a 1911 copy of the book.
Not only is it supremely quotable, but Hamlet himself fascinated me- still does. It wasn't that I liked the characters- I was more intrigued by them, really (although, despite his flaws, I do have a sneaking fondness for Hamlet. I always end up feeling really bad for him.)
BBC's modern-day Hamlet, starring David Tennant as Hamlet
Sadly, I haven't yet seen any whole movie versions of Hamlet, although in Shakespeare class we did watch two versions of the "to be or not to be" speech- the first done by Mel Gibson, the second by Kenneth Branagh. (and I'm about halfway through BBC's Hamlet at the moment, although I'm not sure when I'll get a chance to get to the other half)
Hamlet 1996 starring Kenneth Branagh as Hamlet and Kate Winslet as Ophelia.
It's thanks to that Shakespeare class that I've read as many of his plays that I have. And I really don't like some of them. I hated
Othello
- talk about depressing! And Macbeth kind of freaked me out. Shakespeare also has a habit of being bawdy at times (although with the hard language, this also flies right over my head many a time, thank goodness.)
Yay, everybody's happy. Finally.
The one I have the most mixed feelings about it Much Ado About Nothing- it's both my favorite and my least favorite of his plays. Favorite, because I adore Benedict and Beatrice, and least favorite, because I hate the story between Claudio and Hero. But I mostly like it because, well….Beatrice and Benedict are just hysterical! Though there is definitely some needless content, the '93 movie is really funny (if you have a clearplay, of course) and again, BBC has done a version I really, really want to see.
…And The Taming of the Shrew starring Elizabeth Taylor and Richard Burton? More hilarity! (Although the women's gowns are so low it's definitely not a movie to watch with brothers)
About two or three years ago, my high school drama group did a performance of a Midsummer Night's Dream, where I played Helena. My friends, I thought I liked reading Shakespeare. Acting it is a million times more fun!
Reading Shakespeare is an interesting experience. I'm not a whole-hearted fan of everything he's written (I spend most of
Romeo and Juliet
complaining to myself about how everyone is acting stupid, basically) and I haven't read (or even approve!) of all his works. But each of them have a timeless quality. There's endless
controversy
about everything in Shakespeare's life- but one thing that most everyone can agree on is that these plays are masterpieces. You really can set almost every one of his plays in a different setting, time, or location, and they'd still make perfect sense. And that really is a mark of brilliance.
What about you? What's your favorite of Shakespeare's plays?